(World Athletics ) - Ethiopia's Seifu Tura claimed the biggest win of his career so far, while Kenya's world champion Ruth Chepngetich added another title to her CV as the Bank of America Chicago Marathon, a World Athletics Elite Platinum Label road race, returned on Sunday (10).
Prior to the race, Tura had explained how the warmer than expected conditions may not play in his favour, but the 24-year-old kept his cool to triumph in 2:06:12 as he finished 23 seconds ahead of the USA's Galen Rupp, with Kenya's Eric Kiptanui third.
While Tura broke away in the final kilometres, Chepngetich had a solo run to success as she held on to the lead she had created with a blistering start to win in 2:22:31. Making a breakthrough behind her was 2018 US champion Emma Bates, who clocked a PB of 2:24:20 for second place, while her US compatriot Sara Hall was third.
Tura had shown earlier this year how he was in the shape of his life, as he ran a PB of 2:04:29 to finish fourth in Milan. While the conditions, which included temperatures of around 22°C at the start of the event, caused him to rethink his target of improving that time in Chicago, he ran a well-judged race to win his first major marathon.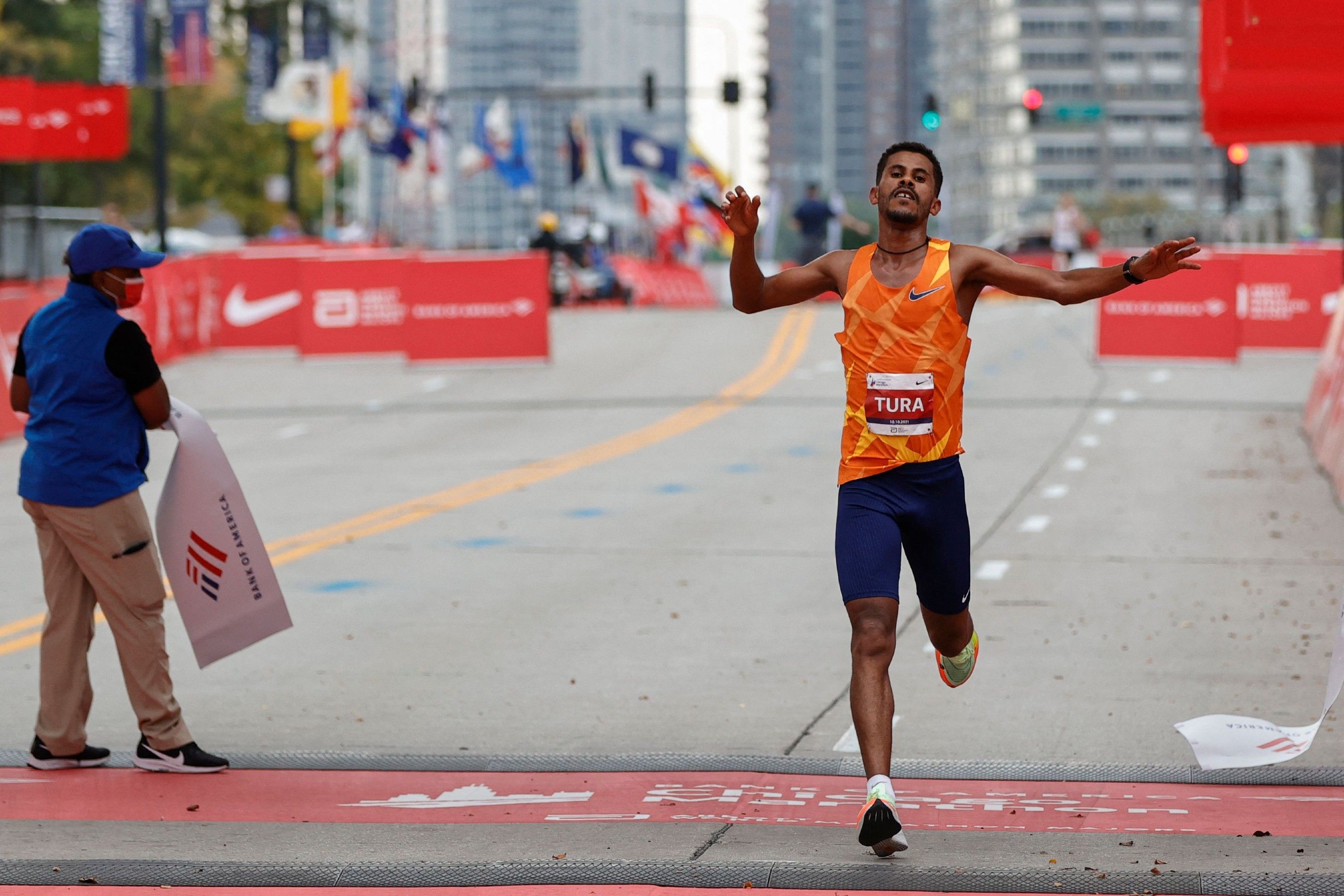 His compatriot Shifera Tamru had been the early leader, as he followed the pacemaker through 5km in 14:36, seven seconds ahead of the nine-strong chase group. By 15km, passed in 44:06, his lead was 15 seconds but his challengers were beginning to close him down.
Tamru was caught and at half way the clocked showed 1:02:29. Rupp was 11 seconds behind the group – which featured Ethiopia's Tamru, Tura and Chalu Deso, plus Japanese record-holder Kengo Suzuki and Kenya's Reuben Kipyego and Eric Kiptanui – at that point but he rejoined the pack a short while later, on US record pace.
After 25km was passed in 1:14:42 and 30km in 1:30:06, the pace picked up again and Tura, Rupp and Kiptanui broke away to create an advantage of half a minute on fourth-placed Suzuki at 35km.
After looking like he wanted Rupp or Kiptanui to take a turn at the front, Tura – winner of the 2018 Milan and Shanghai marathons – decided to make a move and was nine seconds ahead of Rupp at 40km, which he passed in 1:59:44. Untroubled in the closing stages, Tura had increased that margin to 23 seconds by the finish to build on his sixth place in Chicago in 2019, denying Rupp – who clocked 2:06:35 – a second Chicago Marathon victory after his win in 2017.
Kiptanui was third in 2:06:51, with Suzuki fourth in 2:08:50 and Tamru completing the top five in 2:09:39.
"I just was determined to fight to the very end," said Tura. "I was extremely concerned when they said the other day that it was going to be very hot, because I had not prepared for warm weather.
"There was a breeze, and the first half was not too fast, so that helped me and I was able to do well."
Rupp, the 2016 Olympic bronze medallist who was back in marathon action just nine weeks after his eighth place finish at the Tokyo Olympics, told NBC: "Obviously I came in here wanting to win but I'm really happy with this race. It has been a tough last two years for me but this was a tremendous step in the right direction.
"It was a great field, I just didn't quite have it at the end, he (Tura) really ran an unbelievable race. That's the way it goes sometimes."


Chepngetich claims the crown
Kenya's Brigid Kosgei had broken the women's world record at the last edition of the Chicago Marathon in 2019, clocking 2:14:04 to take 81 seconds from Paula Radcliffe's 2003 mark. Setting off at a storming pace, the early stages of this year's race had Chepngetich on schedule to smash that with a sub-2:12 predicted finishing time as she followed her pacemaker through 5km in 15:37.
The 2019 world champion, who ran in the Tokyo Olympic marathon in August but was unable to finish, remained well ahead of world record pace as she passed 10km in 31:22 and 15km in 47:15, and by that point she was a minute ahead of Kiplagat, with Hall a further two and a half minutes back.
But with her pacemaker having stopped at around eight miles and with some gusty winds now against her, Chepngetich's pace began to drop. No longer on world record schedule, the 27-year-old – who ran a world half marathon record of 1:04:02 in Istanbul in April  – went through half way in 1:07:34, a minute and 16 seconds ahead of Kiplagat. Although tiring, Chepngetich maintained that lead and had extended it to three minutes by 35km, running a 1:56:05 split, and by this point Bates had passed Hall to sit in third place.
As Kiplagat started to struggle, Bates' consistency paid off as the 2019 Chicago fourth place finisher moved into second and Hall into third. Although Bates was closing the gap, Chepngetich's rapid start left her with more than enough to claim a clear win as she crossed the finish line with 2:22:31 on the clock, with Bates taking more than a minute off her PB to claim the runner-up spot and a tiring 2020 London Marathon runner-up Hall holding on clock 2:27:19 for third.
Their US compatriot Keira D'Amato was fourth in 2:28:22 and Kiplagat fifth in 2:29:14.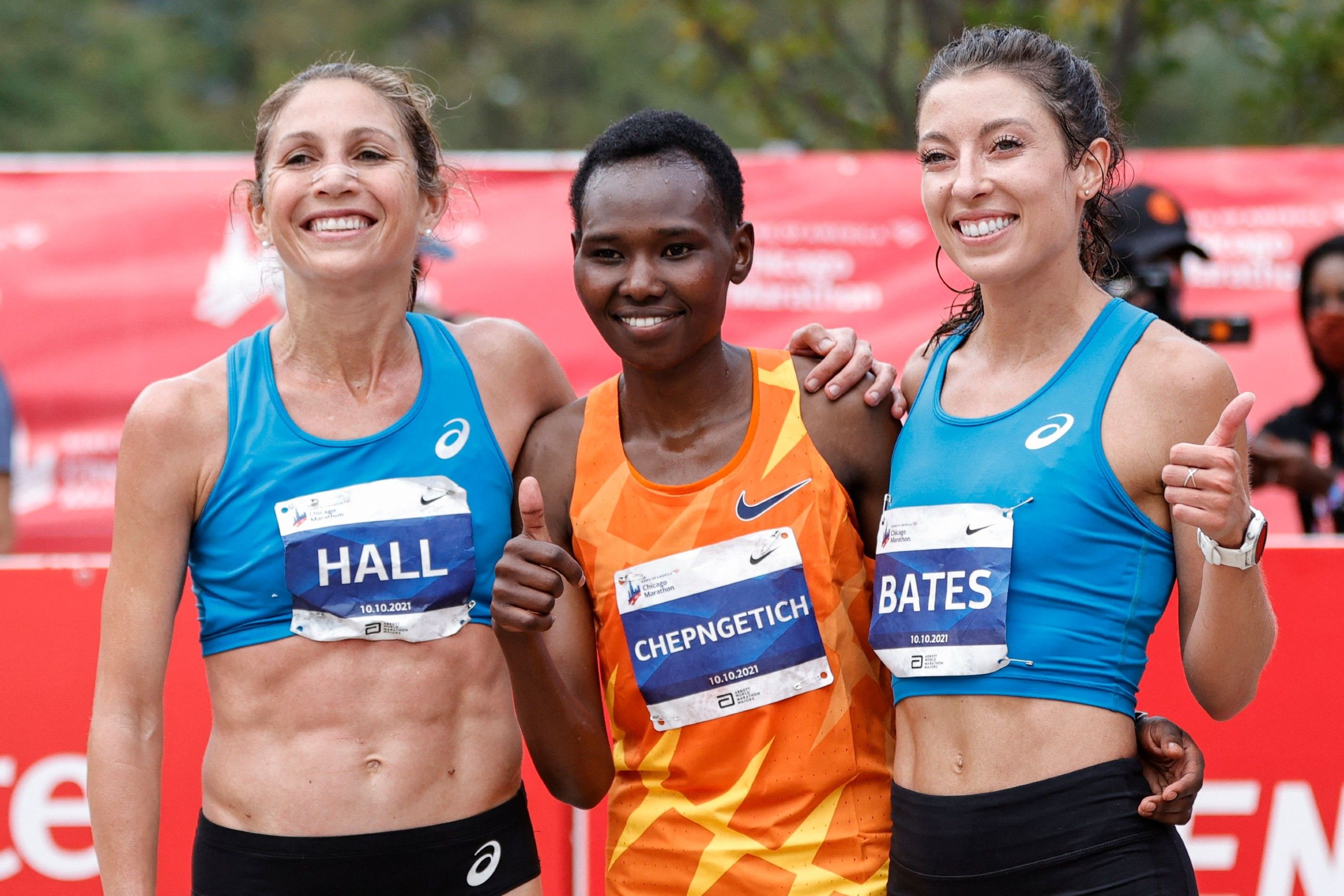 "The race was good but it was not easy because I pushed alone from 13km until the finish line," Chepngetich – who sits fourth on the women's marathon all-time list with 2:17:08 from Dubai in 2019 – told NBC. "But the weather was nice. I just believed in myself, I was confident and I just pushed myself. I told god to give me the strength to finish the race.
"I didn't look back. I just pushed forward and focused on the finish line. I was feeling strong but I could feel it in my legs."
Bates, who ran a negative split with 1:12:27 for her first half and 1:11:53 for her second, said: "I started out very conservative, I didn't want to go out too fast because of the heat and everything.
"Everybody was so far ahead that I wasn't sure if I was going catch anyone, so I was just running my own race and ended up reeling some people in and taking second today, so I'm thrilled."
Jess Whittington for World Athletics


Leading results
Women
1 Ruth Chepngetich (KEN) 2:22:31
2 Emma Bates (USA) 2:24:20
3 Sara Hall (USA) 2:27:19
4 Keira D'Amato (USA) 2:28:22
5 Vivian Kiplagat (KEN) 2:29:14
6 Maegan Krifchin (USA) 2:30:17
7 Carrie Verdon (USA) 2:31:51
8 Sarah Pagano (USA) 2:33:11
9 Meseret Belete (ETH) 2:33:14
10 Lindsay Flanagan (USA) 2:33:20
Men
1 Seifu Tura (ETH) 2:06:12
2 Galen Rupp (USA) 2:06:35
3 Eric Kiptanui (KEN) 2:06:51
4 Kengo Suzuki (JPN) 2:08:50
5 Shifera Tamru (ETH) 2:09:39
6 Colin Mickow (USA) 2:13:31
7 Nico Montanez (USA) 2:13:55
8 Reuben Kipyego (KEN) 2:14:24
9 Reed Fischer (USA) 2:14:41
10 Wilkerson Given (USA) 2:14:55